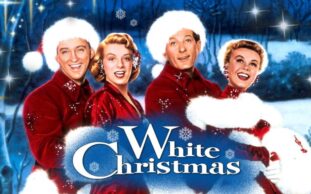 When:

December 3, 2023

1pm, 4pm, and 7pm

Where:

Mariemont Theatre


6906 Wooster Pike

Mariemont, Ohio 45227

Join us for an interactive experience of the 1954 movie, White Christmas

WHITE CHRISTMAS is BACK and we're excited to bring back our Annual Interactive White Christmas Sing Along to the Mariemont Theatre on 12/3 at 1pm, 4pm & 7pm!
Join us for crowd participation, singing and surprises and of course SNOW – A Cincinnati tradition that is not to be missed!
This 1954 Christmas classic starring Bing Crosby, Danny Kaye, and Rosemary Clooney is a romantic tale that takes place in a Vermont lodge- where it is almost always, a "White Christmas." Crosby and Kaye's successful song-and-dance team become involved with a sister act and together work to save the failing inn of their former commanding general.
Lihat Sedikit
Hurry and get your tickets – shows typically sell out early!